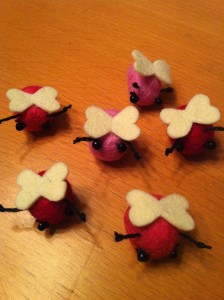 We're getting so excited for our special Heidi Kenney crafting event on January 30th at 3pm. Her book, Every Day's a Holiday (Chronicle Books), is chock full of fun crafting ideas. It's hard to decide what to try first. We gave the love bugs a try this weekend. Aren't they cute?  Sadie loved making the felt bodies. They're such a sweet thing to give to your Valentine.
We still have a few spots open for our Afternoon with Heidi Kenney, so we hope you'll sign up soon. Remember, you'll get to take home a copy of this awesome book if you attend!
Feel free to sign up online:
http://www.thecraftlounge.com/store/index.html, via e-mail: info@thecraftlounge.com, over the phone: 201-944-3311, or in person: 324 Broad Ave., Leonia, NJ.
~Jen