Fond Farewell
-
The Craft Lounge will close its doors for good at 6pm on Saturday, March 31st. Everything will remain at 20% off until we close, so please stop by to have a look around and say farewell. We will miss you all!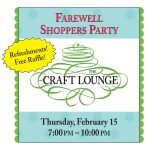 Celebrate 10 Years With Us!
-
Please join us to celebrate a decade of The Craft Lounge at our final gathering. Come say hello, have a cookie or two, and help us support our talented crafters before we close our doors in April. We'll have one last raffle, so make sure to drop your name in the jar — three lucky people will win. We […]
Thank you and see you in 2018!
-
Please note that we will be closed for vacation through January 8. Thanks so much to all who came out to shop with us this holiday season. We so appreciate your support and love catching up with all of you. All the best for 2018! – Susie & Kathy